Introduce a Girl to Engineering Day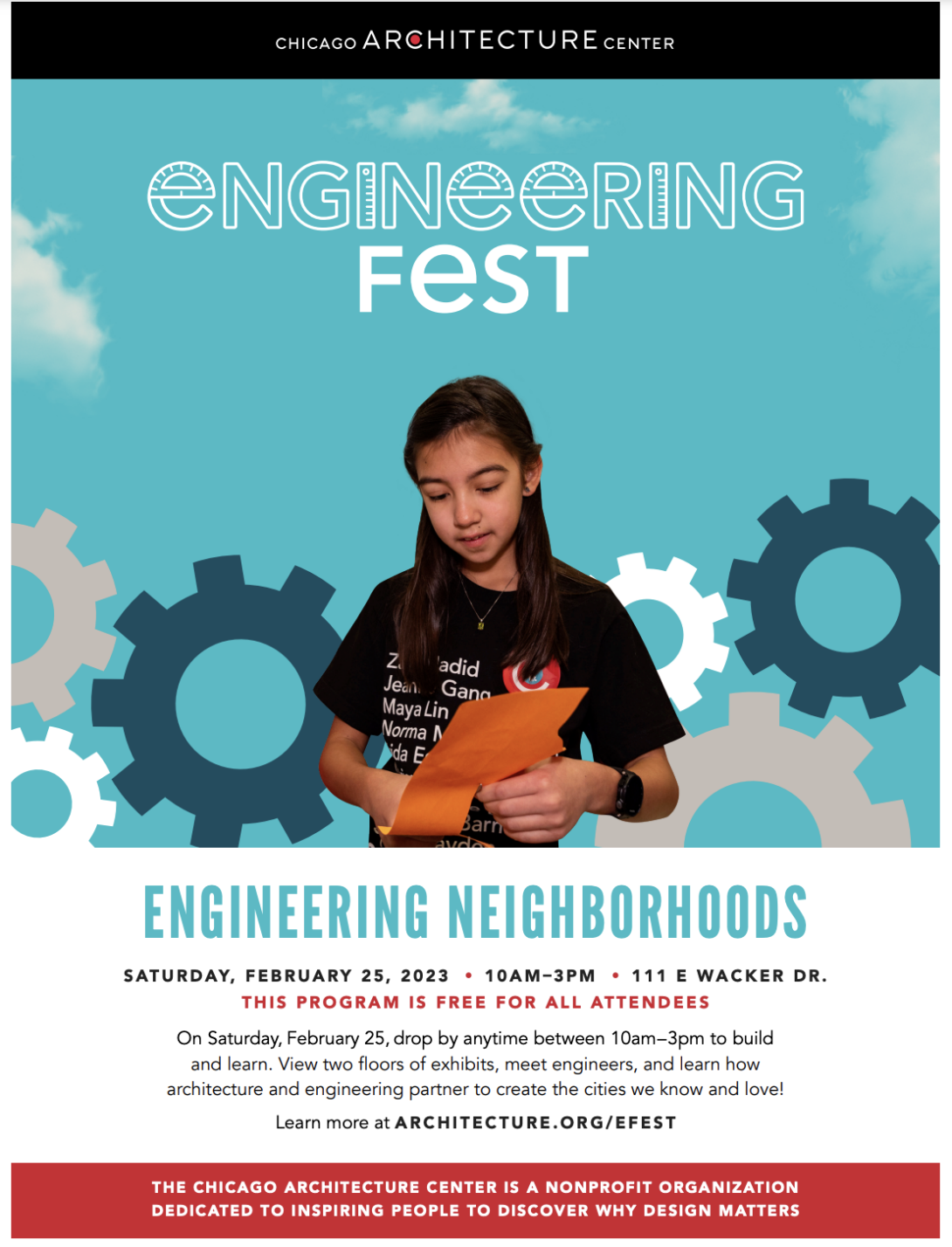 To celebrate Engineers Week in February, WIEP, the UIC Society of Women Engineers, and company sponsors, partner to host a FREE Introduce a Girl to Engineering Day event at UIC. Prospective students are invited to spend a morning of engineering fun with us!
For IGED 2023, we are partnering with the Chicago Architecture Center to host Engineering Fest 2023 and celebrate on February 25, 2023!  
Details to consider:
DATE AND TIME:  Saturday, February 25, 2023 from 10am-3pm
COST:  FREE
WHAT IS ENGINEERING FEST? : The CAC Engineering Fest is back in person this year! Join us for a day of discovery, as children ages 8-14 are invited to build and learn, view two floors of exhibits, meet engineers and explore how architecture and engineering partner to create the cities we know and love.
 The theme for this year's festival is Engineering a Neighborhood, to showcase how engineers innovate solutions that offer communities effective transportation networks, lead the safe construct of buildings, dams, bridges, as well protect natural resources and so much more! Over the course of the day, visitors will explore the multiple avenues of the engineering profession through interactive stations and activities. All this and more is awaiting children ages 8-14 at CAC's 2023 Engineering Fest!
SAFETY GUIDELINES: Effective Monday, February 28, masks will no longer be required for guests visiting the Chicago Architecture Center, including during Education programs. Although masks are no longer required, we are recommending that guests continue wearing them. CAC staff, volunteers and partners will be masked during Education programs.
WHERE IS THE EVENT TAKING PLACE? :  Engineering Fest will be held at the Chicago Architecture Center 111 E Wacker Drive. Make sure you are on UPPER Wacker! Activities will be taking place in several program areas throughout the galleries including the ArcelorMittal Design Studio and Gand Lecture Hall.
HOW DO I GET THERE? : CAC is easily accessible via most CTA lines. If you are taking the Red, get off at the LAKE stop and head east on LAKE to Michigan. Our building is located just past Fanny Mae Chocolatier in the One Illinois Center building.
DO YOU HAVE TO IDENTIFY AS A GIRL TO PARTICIPATE?  NO! We welcome all prospective students, regardless of gender identity!
Check out this video to learn more about IGED at UIC! Heading link