Introduce a Girl to Engineering Day
Intro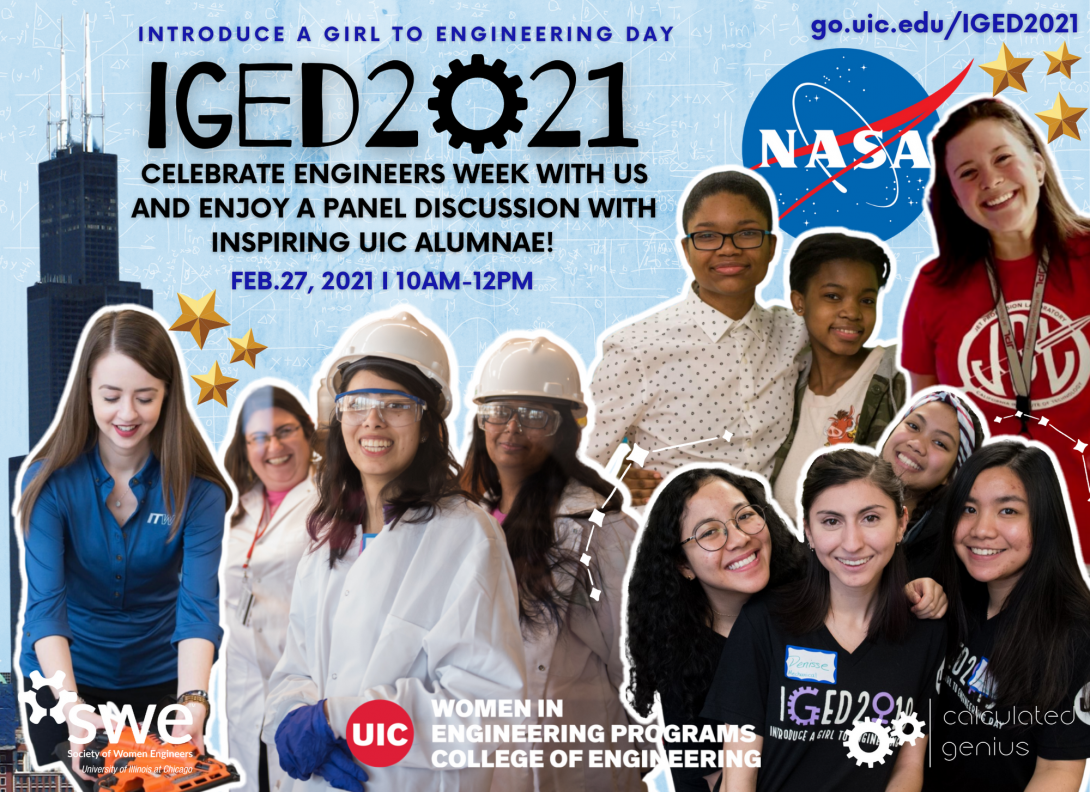 To celebrate Engineers Week in February, WIEP, the UIC Society of Women Engineers, and company sponsors, partner to host a FREE Introduce a Girl to Engineering Day event at UIC. Prospective students are invited to spend a morning of engineering fun with us!
IGED 2021 gave attendees the opportunity to learn about our organizations and new partner, Calculated Genius, and how we can support students' engineering journey! Also, participants had a chance to meet four of UIC's most outstanding alumnae, who shared how they have navigated their academic and professional careers. To learn more about these inspiring young women, please check the 'Meet our IGED 2021 UIC Alumnae Panelists!' section below.
Other details to consider:
DATE AND TIME:  IGED 2022 details will be available in December 2021.
REQUIREMENTS TO ATTEND:  Participants must be prospective students (high school or transfer students) and excited to learn about all things engineering! Teachers are also welcome to attend. Please note, you must register for our event in advance. Registration information is provided below.
DO YOU HAVE TO IDENTIFY AS A GIRL TO PARTICIPATE?  NO! We welcome all prospective students, regardless of gender!
WILL THE EVENT TAKE PLACE IN PERSON?  We will provide an update in December 2021.
Meet our IGED 2021 UIC Alumnae Panelists!
Vivian Sandoval, BS Bioengineering, 2012

Vivian Sandoval is an Intellectual Property Attorney at Nixon Peabody LLP in Chicago. Before attaining a Juris Doctor Degree in 2019 from the University of California Hastings, Vivian was a Product Development Engineer at Illinois Tool Works (ITW) and an active volunteer for Women in Engineering Programs at UIC. She has an Associate of Engineering Science Degree from College of Lake County and a BS in Bioengineering from UIC. Her favorite hobbies are jogging and Latin dancing!

Devina Dhawan, BS Computer Science, 2014

Devina Dhawan is a Security Architect at Hulu and a Lead Instructor for UIC's Girls Who Code Club, where she teaches high school students security and cloud. In 2014, she graduated from UIC with a BS in Computer Science and worked for Orbitz and Etsy before joining her current employer. She is also a professional calligrapher and exhibits her work at local art studios in Chicago!

Jillian Economy, BS Industrial Engineering, 2017

Jillian Economy graduated from UIC in 2017 with a BS in Industrial Engineering and a minor in Mathematics. She joined Illinois Tool Works (ITW) in 2016 and is currently a Quality Engineer at the ITW Global Tool Unit. She mentors UIC students through the UIC Engineering Professional Connections Program and is a highly sought-after speaker for various events. Recently, she was recognized by the UIC Engineering Alumni Association for her dedication to the UIC Community and received the Outstanding Young Engineer Award!

Annie McDonnell, BS Mechanical Engineering, 2016

Annie McDonnell is originally from Cleveland, OH but currently lives in Pasadena, CA where she works at the NASA Jet Propulsion Laboratory as a Systems Testbed Engineer. Annie earned a BA in Business Marketing from Kent State University in 2010 before switching careers and earning a BS in Mechanical Engineering from UIC in 2016. In her free time, she enjoys exploring the many hiking trails of Southern California with her dog and partner. One day she hopes to visit all the US National Parks
Check out this video to learn more about IGED at UIC!